The Dwellers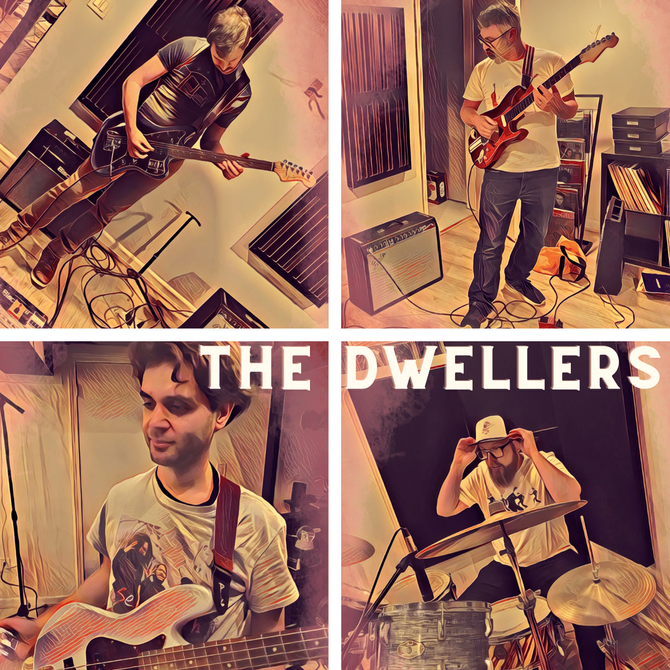 The Dwellers
Surf Rock
"I remember the moment I got the cell phone recording", recalls founding member Ben, referring to a roughly 40-second mariachi-esque surf riff from bandmate Andrew Martin. "I had the countermelody jump to my head and rushed to lay it down like a kid running down to the tree Christmas morning. It was lightning in a bottle."
And ever since that moment, The Dwellers have been churning out inspired surf melodies, bottle after bottle. 
A band born in pandemic times, their chemistry & excitement was tempered only by the speed of their Wi-Fi, songwriting and surfing ideas back and forth across the Web.  Harkening back to surf music of the '50s & 60's, but mixed with their eclectic influence of more modern genres, their songs allowed them all a form of sonic escapism and nirvana, transcending distance and a global health crisis.
Surf rock. Surf grunge. Surf Western. All genres and all ears are welcome as The Dwellers use their timeless melodies to take you to a world where the tide's always right and the tunes keep rolling in.
Hometown: Royal Oak, MI
Band Members
Ben Collins-Hamel: Guitar, Vocals
Andrew Martin: Guitar, Cello
Dave Bartkowiak Jr: Bass
William James: Drums
Tide Breaker
The Dwellers
It's not surf. It's not grunge. It's The Dwellers.
Read more…
Gnarly Marley
The Dwellers
Get ready for a reggae trip that almost floats into space before a surf rock tidal wave crashes over top.
Read more…
Dwellers Moments
The Dwellers
Inspirational revelations from the collective genius of The Dwellers.
Read more…
first wave....is coming...
Summer 2023. Prepare yourself.